My goal is to get you as healthy and happy as possible.
My Story   
I have been the studying the human body and it's potential since I began practicing yoga at the age of 14. That is when I began my studies of Kundalini yoga.  I discovered the power of breath, control and concentration.
I studied anatomy and bio mechanics in college while training to become a professional dancer. I enjoyed a 20 year career, dancing and teaching dancers how to stay injury free.
25 years ago, I began my studies of Pilates with Michelle Larsson and Eve Gentry. I was in the first commercial Pilates video ever released. Joe Pilates knew that "you are only as young as your spine". You can be a 25 year old with a stiff and rigid body, or a youthful 85 year old with complete flexibility and strength (as Joe Pilates and Eve Gentry were). The Pilates Method can get you there.
Later,  I discovered the genius of Eric Franklin and the Franklin Method. Through imagery, touch, self awareness and good bio mechanics, my body and those of my students keep feeling younger, more energized and more flexible every year. I am one of the first level 3 Franklin Method Educators in the US.
I know first hand, that you are what you eat. I have reversed arthritis (that runs rampant in my family) by changing my diet. What you eat can mean the difference between decay and renewal.
I received my training as a health coach from the Institute for Integrative Nutrition.
I am a big proponent of taking one small step at a time. I'm not asking you to put on a turban and throw out the lasagna. I'd just like to introduce healthy steps you can take to make healthier choices. Steps you can take immediately.
I know you plan to be here for the long haul. Why not do it in a flexible, strong and healthy body?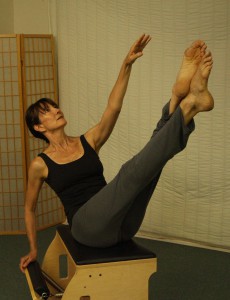 Maya has taught for the Body/Mind/Spirit Conferences, Pilates on Tour, Pilates Method Alliance Conferences, Corebody in Paris, France, as well as for the Australian Pilates Method Alliance. She holds a BFA in Dance from the University of Utah, is a certified level three Franklin Method teacher,is PMA certified and received training from the Institute for Integrative Nutrition.